For years countless Disney duck artists have paid homage to Carl Barks through their stories. Apart from the obvious fact that they frequently use his main characters and thereby acknowledge Barks' artistry and ingenuity, new artists have repeatedly referred directly to Barks' stories and included his secondary characters in their own stories.
But there are a few handfuls of artists that have gone a step further. You might say that they are paying the ultimate homage to The Good Artist, because they have portrayed their idol as a guest-star in their stories. Here are some of them...
1986
A special album series was published in the 1980s in several European countries. The series - which consisted of 5 albums - was issued from Danish Egmont with collaborators from several countries (Denmark, Germany, Spain, and Italy).
The albums - that were never published in English - had a vague main title which can be translated into Tales from Uncle Scrooge's Treasure Chest. Album number 5 would probably have been titled Five Times Grand Canyon and Back and tells about Scrooge, Donald, and the nephews taking a trip to the Grand Canyon. On their way they visit Los Angeles and Disneyland in California, where they see a lot of famous people such as actors Marilyn Monroe, Clark Gable, Charles Chaplin, Laurel and Hardy, Groucho Marx, and film director Alfred Hitchcock, musician Louis Armstrong ... and Storyteller Carl Barks.
Artists:
Writer: Miguel Pujol
Sketcher: Joan Espinach
Inkers: Maite López Espí-Parramón, Celeste Perramon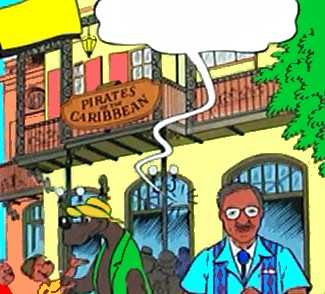 1992
HDL14 Duckmade Disasters was published in 1972. It was inked by Kay Wright but 20 years later a remake was inked by Daan Jippes surfaced (H92001). Jippes paid homage to Barks by drawing him throwing eggs in one panel.
Artists:
Writer and sketcher: Carl Barks
Inker: Daan Jippes

1992
The story I1919 Zio Paperone e l'Uomo dei Paperi (Uncle Scrooge and the Duck Man) was first published in Italy and later in several other European countries as well as Brazil. It is the story about a female reporter who visits the Barks' home in Grants Pass, Oregon, to interview Carl. During the interview Barks is finishing a painting for an exhibition, and at the same time he reminisces about his comic book work with his beloved ducks. NB.: The captions below the drawings are not from the story.
Artists:
Writer: Rudy Salvagnini
Sketcher and inker: Giorgio Cavazzano

I'm working on a new canvass.
u

Garé greets the guest.

The interview starts. Garé gets the tea.

Gentle Gyro didn't mind being in my stories.
u

But grumpy old Scrooge was not too thrilled.

The Beagle Boys were (and they stole my wallet).

Then I sent my heroes on many adventures.
u

Some of them took place in faraway countries.

And Garé always helped me with the details.
| | | | | | | |
| --- | --- | --- | --- | --- | --- | --- |
| Lovely! Another painting ready. | | Mustn't forget to sign. | | Off to the exhibition! | | Just another day's work... |
1997
D96354 The Talking Totem has only been published in Europe. Donald reaches an Indian village where the tribe is controlled by their talking totem pole which demands a steady flow of valuables. The voice comes from villains tricking the Indians. The pole - which is in plain view throughout most of the story - has the face of Carl Barks as one of its figureheads.
Artist:
Marco Rota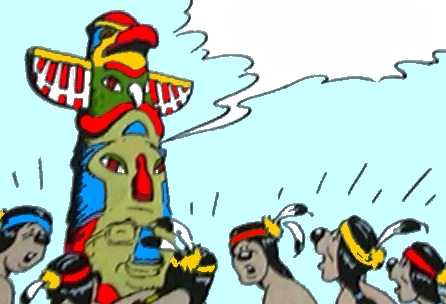 2003
D2002-229 The Onion Rose (which has not been published in English) is the story about Donald Duck and Magica de Spell who are racing to the South American jungle in order to find a special species of rose. On their way they meet an artist - Carl Barks.
Artists:
Writer: Janet Gilbert
Sketcher: Francisco Rodriguez Peinado
Inker: Enriqueta Perea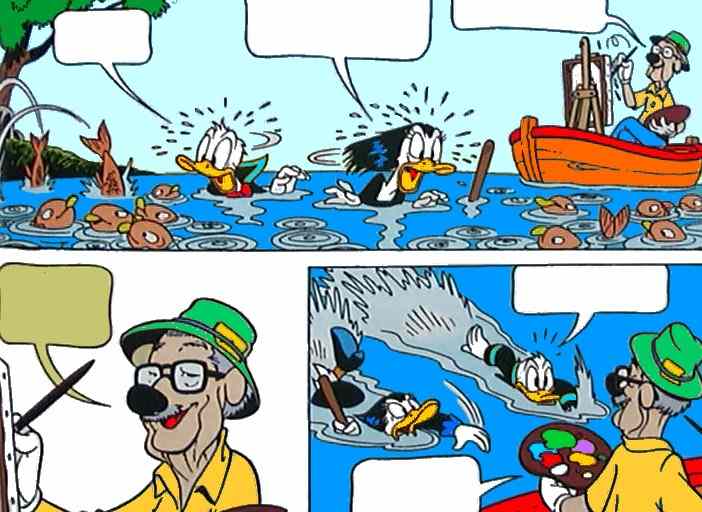 ---
| | | |
| --- | --- | --- |
| http://www.cbarks.dk/THEHOMAGE.htm | | Date 2005-12-08 |