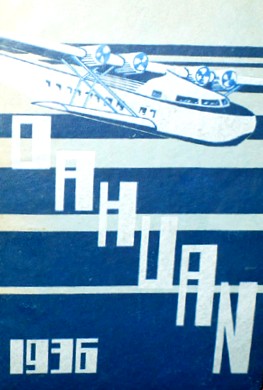 1936
The Oahuan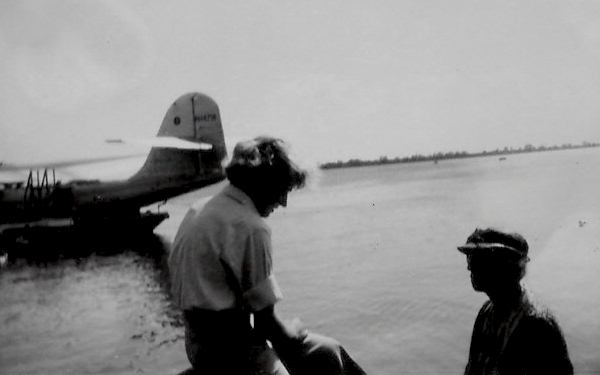 1936
Meeting the first Hawaii Clipper
EARLY TALENTS
This paragraph is partly built on Garé's own memories mixed with comments from letters from different people:
From her earliest teens, Garé has put her talent to practical use. Wood blocks of subjects typical of the Islands, which she loves, have been designed into lovely cards of greeting. among them are the dusky Hawaiian surf riders, and 'outrigger' canoes; gulls flying, grass huts, and the incredible island fish.
While at Punahou, Garé achieved distinction as Chairman of the Art Committee in charge of publishing the Oahuan, 1936 year book. The theme was the P.A.A. (Pan American Airways - Editor's remark) Clipper, which landed on its first transpacific flight. Garé's drawings (among others) decorated this edition, which was so admired that copies were bought up and mailed to New York and other main offices of the P.A.A.
Garé designed the large name plate listing all the 10 best swimmers of the Thurston Meets for the past 20 years. This was mounted on a block of wood and attached to Griffiths Hall, Punahou Academy.
Of the two bronze plaques, designed by Garé for the Girls' Thurston Swimming Meet, the instructor, J.W. Mahoney, wrote in the Honolulu Advertiser in February, 1935: ... The etched plaques show in relief a young swimmer. The polished surfaces stand out in fine contrast with the darker background. This is the best piece of etching ever done here!
In September 1935 Garé held her first art exhibition consisting of 24 paintings at the Assistance League Club in Hollywood, California. In the following years she maintained her own annual art exhibitions at different galleries in the Hollywood area. They were all successes with both guests, notabilities, and critics.