REPETITIONS
It is normal for a painting artist to sketch and paint a varying number of rough drafts for a future painting, and Garé was certainly no exception to this method of working. But it is rarer for a painter to produce more than one finished painting of a certain motif, unless it serves a relevant purpose (Carl did so occasionally in his early painting years, when he painted the same church in different lighting and during different seasons).
Garé was not in the habit of repeating herself in her motifs, but in the 1961 examples chosen for this page she did. Presumably she found the motif so interesting that she wished to explore its possibilities in different lighting. All the images reproduced below were photographed (by Carl) and painted (by Garé) in the Zion National Park, which is the state of Utah's first national park featuring a history of special geology and multiple groups of ethnic inhabitants.
CARL'S PHOTOS
Carl took several snapshots of the geological formations in the park, a few of which are presented here, and they later helped form the background and the inspiration for Garé's finished paintings:
GARÉ'S PAINTINGS
Here are the almost identical paintings with a few data and comments attached:

61-1 Near Zion, Utah

Type: Oil on board
Measurements: 20"x24" - 510x610mm
Sold: Bought by a Texan for 72 dollars

This is the first painting in a trio. The mountain range is made with colours chiefly comprising of raw and burnt sienna, and raw umber, while the landscape beneath is held in more cheerful tones. Notice the rocks and the fence posts, which Garé added on her own accord. An example of artistic freedom.


61-13 Near Zion, Utah #2

Type: Oil on board
Measurements: 30"x24" - 760x610mm
Sold: Bought by a cartoon artist for 103.50 dollars

In this second painting (it is really the third as you may gather from the numbering) the colour tones have been switched to some extent; the mountain range looks more welcoming, while the landscape beneath looks slightly more gloomy - even the picturesque rocks and the fence posts have disappeared.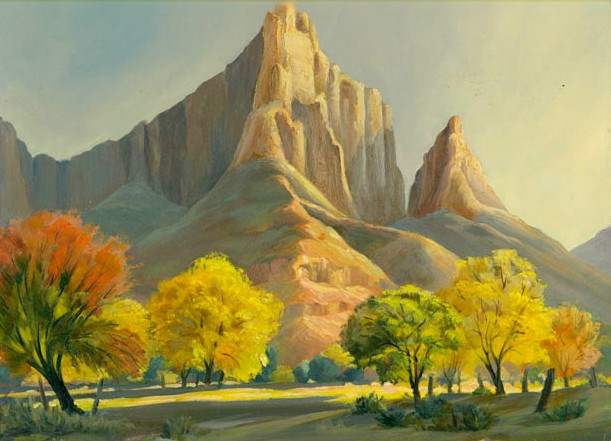 61-11 Near Zion Park
Type: Oil on board
Measurements: 12"x16" - 300x410mm
Sold: Bought from the Carl Barks Estate for an undisclosed sum
Garé booked the painting as NFS (not for sale), but it was numbered and titled and surfaced in 2008. Garé usually signed her paintings when they were sold, which is why her signature is missing. Still, the painting is finished but done in another, and much softer, painting style and finished with entirely different colours.