COLOURS
Garé's paintings were never meant to be snapshots of the nature she loved to render. Although her most often used motif was trees (which are fairly easy to paint as they always pose in dignified immovability), the same paintings would often include a wide range of animals (which are certainly not going to pose for long sessions). So Garé's paintings were personal expressions from an artist's point of view. One of the most important ingredients in these personal images was the choice of Colours. Garé did not 'just' copy nature's palette, she made her own in order to strengthen the end result, thus making her work look as powerful as possible.
When on location Garé made endless sketches. She would occasionally add guidelines to some of her sketches, stipulating the landscapes' actual colours as she saw them. Later in her studio she would write detailed notes of the colours she would use for the painting to come. This page presents you to a fraction of Garé's work with colours.
FIELD WORK
If you browsed through Garé's field sketchbooks you would be quickly convinced that she was an extremely perceptive and imaginative person. Several of the pages seem to have started with a fairly large - and often rather detailed - sketch, but they were usually flanked by many smaller and rougher satellite sketches. It can well be speculated that she hastily jotted down ideas on the spur of the moment to refer to at a later time. These vignettes are mostly quite small and very sketchy indeed (after all, they were not meant for publishing!). Here you are presented to a few of these 'sticky notes', which all have some sort of colour direction attached.
STUDIO WORK
In her studio Garé began to decide which colours she wanted in her next painting. As you can see she was quite thorough and professional about choosing the specific colours. (It is rather obvious that Garé worked next to a cup of coffee!) The end result was a 20x24 painting on board titled 8-61 Mt. San Jacinto - Fall Trees. Although the colouring is quite stunning it was 'only' a type of preliminary to the next one, a 22x28 board painting titled 9-61 Mt. San Jacinto, which was displayed in San Jacinto's City Hall.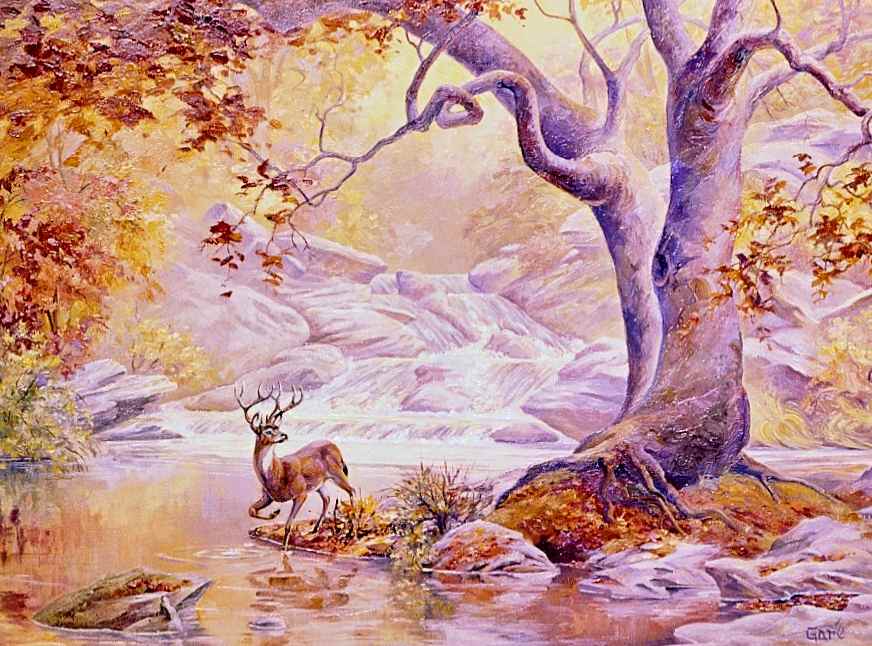 As time went on Garé worked even harder on her colours and she used more complicated palettes. This is apparent from this notebook example in which she has booked two full pages! The end result was a 18x24 board painting titled 3-65 The Hunted.