FLOWERS
Garé produced many oil paintings in which the floral world of her native Hawaiian islands was depicted. Although we can assume she knew all the flowers by heart from being raised right in the middle of the fertile landscapes, she felt compelled to put together a small catalogue on the colourful and special flowers unique to the islands. She typed page upon page with short characteristics of the plants spiced with small remarks or whole stories taken from legends or daily life.
Some of the flowers mentioned in her catalogue were Passion Flower, Golden Shower, Awapuhi, Blue Water Lilies, Huahualani, Night Blooming Cereus, and Plumeria. In this page you will be presented to two additional, very different pages that might be of special interest.
Apii-Apii
Large creamy flower and very large leaves, sometimes six feet in length. It is said that often when the Menehunes (little men of Hawaii) were caught in a rain storm while working, they would all shelter under an Apii-Apii leaf.
Comment: The most interesting part here is Garé's reference to the legendary and highly elusive Menehunes, because she persuaded Carl to make a story partly taking place in the islands, in which the Menehunes played an important part. Also, she told Carl of the islands' flora and fauna much of which were also incorporated in the story. It was published in the Scrooge adventure story U$04 'Hawaiian Hideaway'.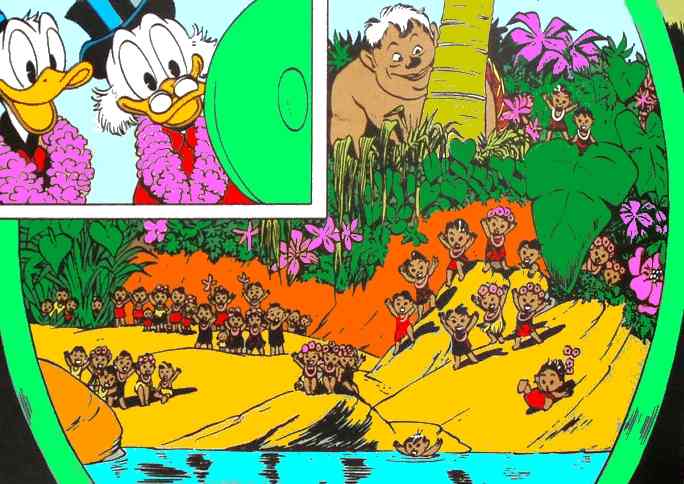 Kimo
Kimo wears large salmon Hibiscus in his ear, white Awapuhi lei, red Carnation lei.
With a Hawaiian father and a Southern French mother Kimo was a fascinating boy and he was one of my favorite playmates. When we were little children a group of us would gather and ramble up through the verdant valley and climb the lower slopes of Mount Tantalus, at the foot of which we lived.
Kimo was full of romance and loved to tell us legends of the spots we explored. We would eat our lunch by the side of a mountain pool after enjoying a cooling dip. Kimo could swim like a fish and always found a few shells or fossils; we would dig for treasure in the caves we found and one day we unearthed a human skull and we were all so frightened we ran all the way home, however, we took the skull along and it was placed in the museum. Kimo was very superstitious, but simple and sweet. He was fond of composing little poems and would sing them to us in his plaintive musical voice. We would be making leis while he sang and when we returned home we always wore at least one each, usually a fresh cool Awapuhi which grows by the side of the mountain pools.