JERRY OSBORNE
Jerry Osborne grew up buying and loving the comic books written and drawn by The Good Duck Artist, though not until the mid 1960s did he know the identity of the object of his affection: Carl Barks. In the early 1970s, Osborne met and began a close friendship with Carl and Garé.
Depending on the manner in which one tried to gain entry into the life of Carl Barks, that portal may have been controlled by Mrs. Garé Barks. To that end, Garé routinely answered the phone at their home, mostly to screen calls and prevent the Duck Man from endless interruptions. Also, with Carl's slight hearing impairment (requiring a hearing aid), he appreciated Garé handling callers whenever possible that he might avoid unnecessary chit-chat. All of which means I became acquainted with Garé before I ever spoke to Carl, if only by about five minutes.
That first call to the Barks home in Goleta, California, took place in 1974, and opened the door to friendships that lasted the rest of and Carl's and Garé's lives. It was always clear how essential Garé and Carl were to each other - an ideal blend in ways that provided each with support from the other as they followed their similar yet dissimilar artistic paths.
There is not a day I do not think fondly of the Barkses. The framed art on the walls in this house provide endless reminders of both Garé and Carl.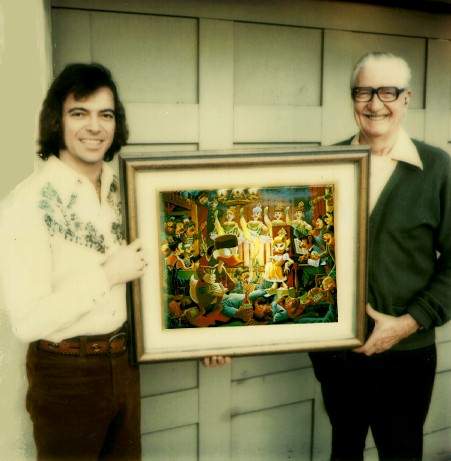 In front of the garage door in 1975, when Osborne picked up the painting
She Was Spangled and Flashy
This contribution was written specially for this website. © Jerry Osborne